The Canadian Home Inspector Magazine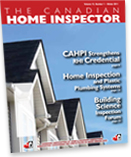 The Canadian Home Inspector is published tri-annually and includes important information on the home inspection profession from the undisputed leader of the profession, the Canadian Association of Home and Property Inspectors. The purpose of this magazine is to provide a source of information on all that is new and newsworthy in the home inspection industry for the benefit of CAHPI provincial/ regional members.

All CAHPI membership receives the Canadian Home Inspector as part of their membership benefits.
The magazine is also available in a dynmatic electronic format which includes URL hyperlinks.
The Canadian Home Inspector Advertising Rates
For more information on advertising in our magazine please contact the CAHPI National office (888) 748-2244 and fax (866) 876-9877.



2013 advertising rate page


2013 insertion order

Please note:
All prices are based on supplied artwork in.pdf format
All sizes are approximate
Advertising submission deadlines are:
Spring 13: Jan 18
Summer 13: Mar 14
Fall 13: Sept 6

Contact Sharry Featherston, CAHPI National office for details - This e-mail address is being protected from spambots. You need JavaScript enabled to view it